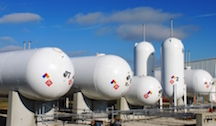 As the leader in private label cooking spray manufacturing, we understand the need to provide our customers with the best possible pricing so you can remain competitive in the market. We balance our costing with our goal of using quality ingredients and materials.
We believe this strategy enables us to provide superior products and to maintain our long-term viability – which best serves our customers.
Attached is a PDF with updated information about the commodities market, which impacts our industry pricing. If you have additional questions, please do not hesitate to contact us.
NEWS & VIEWS July 31, 2015
CBOT Activity: The industry moved to the September bean oil futures this week. It broke below 30 cents on Monday's low of 29.97 before jumping back up to Tuesday's high of 30.82 and settling at 30.10 which is down 38 points from the August close last week.
Canola Factors: After touring some of the major canola producing areas in Canada this week, some through torrential downpours, it was noticed there is much variability in crop conditions from field to field. There was a very large amount of replanted canola this year due to the frost in early June. Those acres actually look better than the earlier crop that endured the hot/dry conditions during pollination. The later replant will also benefit from the recent rains this week but fingers crossed we don't have a frost before the 2nd week of September. There were a lot of areas with little to no pod-fill which I found to be of concern. Most recent estimates on this crop are closer to 14 mmt which I think is appropriate after the tour. The Chinese seed demand, however, will be down drastically year on year which should free up the canola for the crushers. Thus, we anticipate a record crush for canola again next year. Due to the current margin structure, however, it is unlikely canola trades on par with soybean oil values for long durations. Canola crush is running 76% this week as processors are looking to extend their more profitable soybean crush programs instead.
Palm Factors: Most of the palm oil is being traded versus the Oct contract currently which did touch a 2100 ringgit low on Thursday and moved higher. Indonesia June crude palm production was an estimated 2.8 million tons which would be a 10 month high for output and up from 2.77 in May. Meanwhile, surveyor SGS reported Malaysian palm oil exports are down 9%. Palm feels a bit negative until energies find support (which they eventually always do).
Soy Factors: We noticed a lot of "sell oil/buy meal" trading activity this week as there were 1242 soybean oil deliveries against the August position (meal and bean deliveries were zero). As a result, oilshare dropped to a historically very low value of sub 30%. We noticed some export sales canceled in soybeans this week and export sales are pretty far behind pace for new crop already this time of year. The weather forecast looks beneficial for the soybean crop as well. It is typical for soybeans to put in a seasonal low in July before the August weather market volatility. It is the weather during the month of August that determines the total production of the soybean crop, for the most part.
Crop Progress: The crop conditions did tick marginally higher on Monday. We do anticipate a potential 2 percent increase next week to be closer to 62% versus 71% last year. 71% is in bloom with 34% setting pods which is average.